My mission: To go on 60 dates with friends & family to celebrate my 60th birthday.
We love our home. Our home is our castle, our refuge, our safe place, a place where we can do what we like (within the law). The phrase, 'An Englishman's Home is his Castle' was adopted as early as the 16th century and is now hard-wired in our psyche. Yet when it comes to going out and about near home we are strangely reluctant. We'd rather go to Rome to visit the Colosseum or sunbathe on the French Riviera than investigate what's on our doorstep.
I'm just as bad. Having moved to the Surrey/Hampshire border over five years ago you'd think I might have gone to see some of the local attractions. OK – so we were renovating a Victorian Farmhouse and I did have a heart operation but still…
A sixty date would put it right.
I asked John and Carol, two local friends who we'd met shortly after we moved in. They tried to hide their surprise when I said I'd never been to Midhurst or Petworth. And what about Jane Austen's house they said?  Only 30 minutes away.
And so, a date was fixed.
Jane Austen's House Museum, Chawton, Hampshire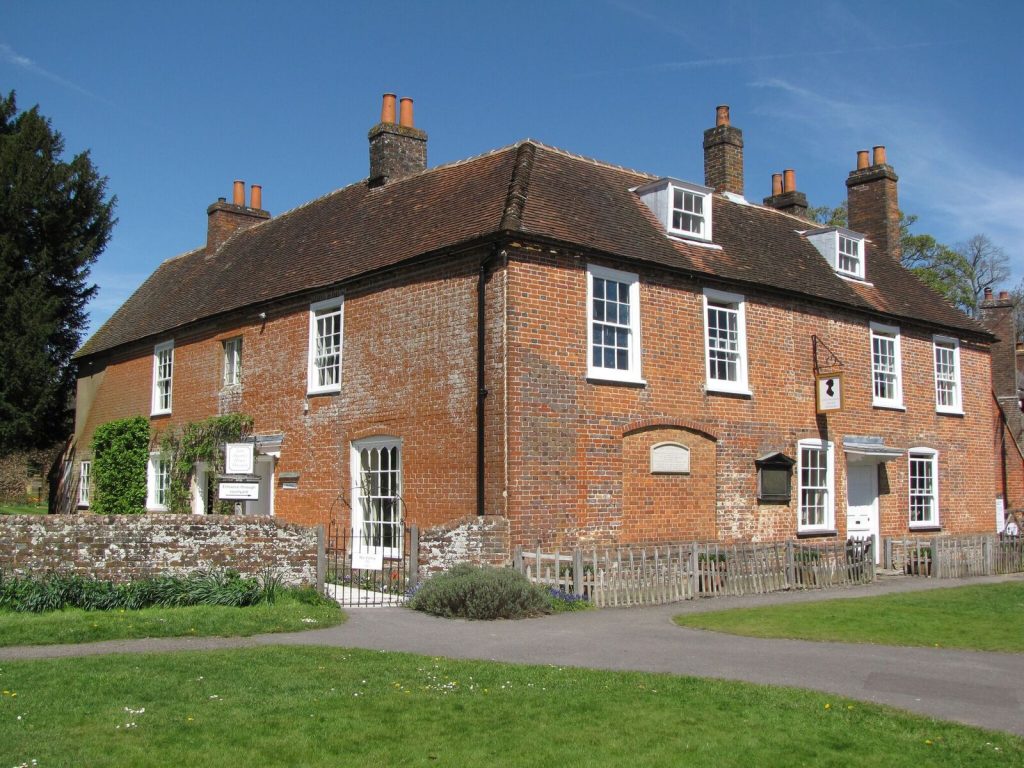 I confess – I love Pride and Prejudice and read it every year. When I'm particularly tired, which happens when you reach a certain age, I make a cup of tea (or pour a glass of wine) and re-watch Joe Wright's film. Of course, I loved the 1995 hit BBC TV series starring Jennifer Ehle and Colin Firth, but it's too long for a quick sit-down. The only problem with the film is the missing kiss. Why didn't we get to see Elizabeth (Keira Knightly) and Darcy (Mathew McFadden) kiss at the end? Don't the producers know every good love story ends with a kiss? The only disappointment in this otherwise lovely romantic re-telling.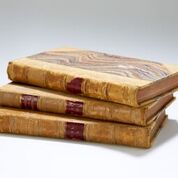 I was excited to visit the house (museum) where Jane Austen lived for the last eight years of her life (1809-1817). There she wrote or rewrote some important works. Sense and Sensibility (published in 1811) and my favourite Pride & Prejudice (1813), followed by Mansfield Park (1814), and Emma (1815). While she lived at Chawton, she also wrote Persuasion and Northanger Abbey although both were published after her death.
As I walked from room to room I was struck by how much it still felt like a family home. Full of family memorabilia and creaky stairs. Clothes and cooking pots. Books and pens. The writing table where she worked. Pause. Really? It's so small. Positioned by the window in the dining-parlour, you can't help but wonder. No grand desk and expensive laptop for Jane to produce her memorable characters and great story lines.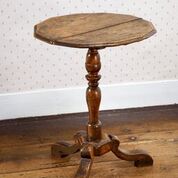 Perhaps my favourite item was the blue ring. It caused a national outcry when the singer Kelly Clarkson outbid the museum in an auction, paying £152,450 for the ring. She intended to take it back to America but after a fundraising cri de coeur, donations flooded in, including an anonymous one of £100,000, enabling the Museum to buy it back, saving it for the nation.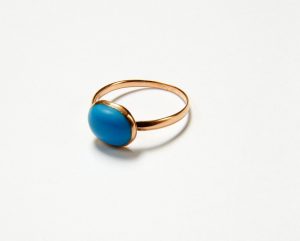 Outside the kitchen there's a pretty courtyard which had such a feeling of tranquillity that I sat for a while and imagined myself transported back to 1813, having tea with Jane, and discussing writing. I grinned at the idea of asking her to read my blog.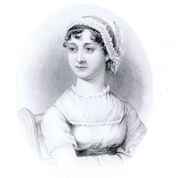 Rule 1: Focus you're exploring on your interests
Midhurst, West Sussex 
Still on a literary tale we headed for Midhurst, a pretty market town and only fifteen minutes' drive from home and the inspiration for such writers as HG Wells, Anya Seton and Ruth Rendell.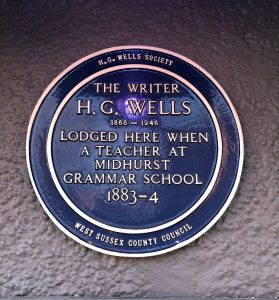 The town voted one of the best places to live in the UK dates back to before the times of the Romans although the name was first recorded in the early 12th century. We walked to St Ann's Hill where there is evidence of an Iron Age fort and pagan worship. (see also my blog on a date to Danebury Hillfort).
The hill, lying to the east of Midhurst's market square, was once the sight of the festival of Beltane, an ancient fire festival celebrating the start of summer on May 1st. Bonfires were lit (usually on 30th April), and rituals followed. The Anglo-Saxons and the Celts believed fire to be purifying and healing. I particularly loved the story of the Beltane cakes. A large sweet offering to the spirits, it would be big enough to split into portions, with one containing a piece of charcoal. The unlucky recipient of this piece would be thrown in the fire, although usually rescued by friends. Villagers would dance around the fire and cattle would be herded through two bonfires to protect them from disease.
Anything to do with the time of the Anglo-Saxons, the Celts and the Norse is right up my street.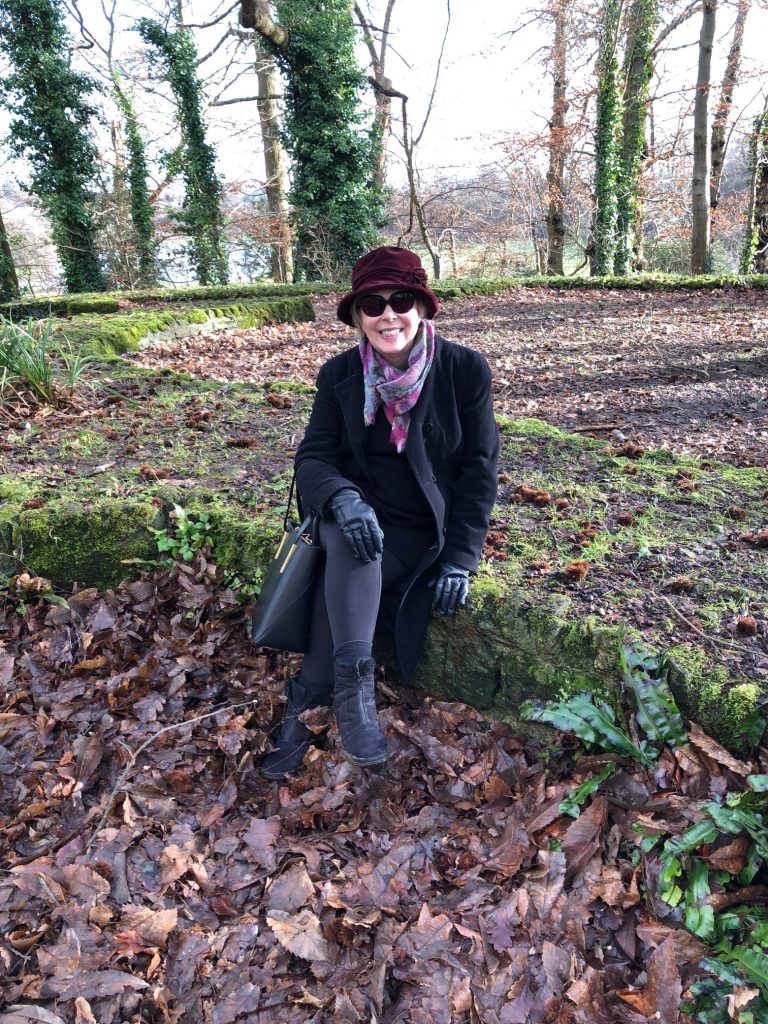 Fast-forward a few centuries to Tudor times and to the Cowdray House Ruin. Originally called Coudreye, the Norman name for hazel woods, it was built in 1273 by Sir John Bohun as a fortified manor house. In Tudor times, Sir David Owen, uncle to Henry VIII, used the same footprint to build his celebrated Cowdray House. Both Henry VIII and Elizabeth I were guests at the house. It was partially destroyed by fire in 1793 and now sits as a magnificent ruin overlooking the South Downs National Park. With another of my interests being Macbeth, (written in 1606 the year after the Gunpowder plot and probably because of it), I was intrigued to learn Guy Fawkes had been employed as a footman at Cowdray before his infamous attempt to blow up parliament.
In more recent times the house has hosted film crews intent on recreating period drama. Due out at the end of 2018 is Mary, Queen of Scots, starring Saoirse Ronan and featuring a scene using the Cowdray House ruins.
Unfortunately, it was closed but I did manage some photos. Still, it's a good reason to go back.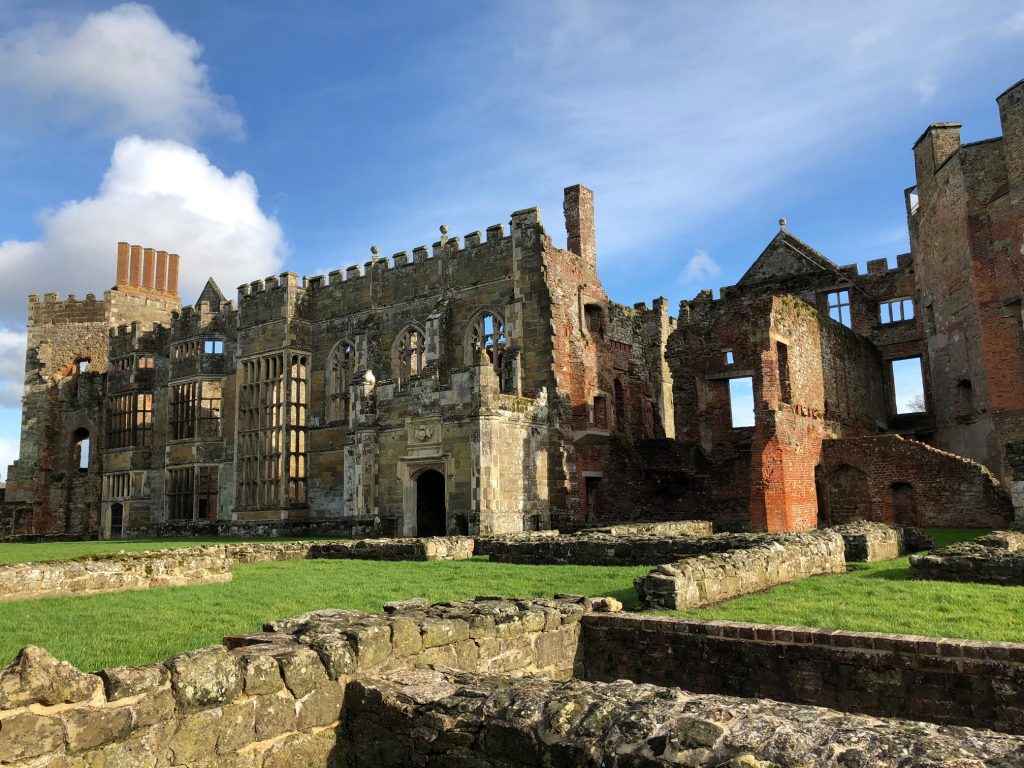 Rule 2: Read websites or books on local history so you know where to explore. Check opening times.
We finished the day with a delicious meal in the Spread-Eagle Hotel and we agreed to arrange to see Petworth, with yet another famous house, an artistic heritage and, as I would discover, a Macbeth connection.
Moral of the date: A national treasure may be close to home. Don't miss out.
With many thanks to John and Carol who came with me on this date.
20/60 dates completed
Next: A date with Macbeth
Follow me to see what happened.
©spearean 2018 The Jasmin Vine