My mission was to go on 60 dates with friends & family to celebrate my 60th birthday.
When you come to celebrate a milestone birthday it's inevitable that you think back over the years and to the friends who have been with you on a large part of your life's journey. These are the friends who've become sacred to you, so what better than to organise a date to a holy place.
Anne and I first met as students in 1972, on a train from Sweden to the UK. When we went through Cologne later that night we shared the wonder of the illuminated-green cathedral, glowing in mythic splendour, with its two gothic towers looming high over the city. We made a promise to come back to visit the cathedral.
Forty-two years later, as one of my 60 dates, we managed it.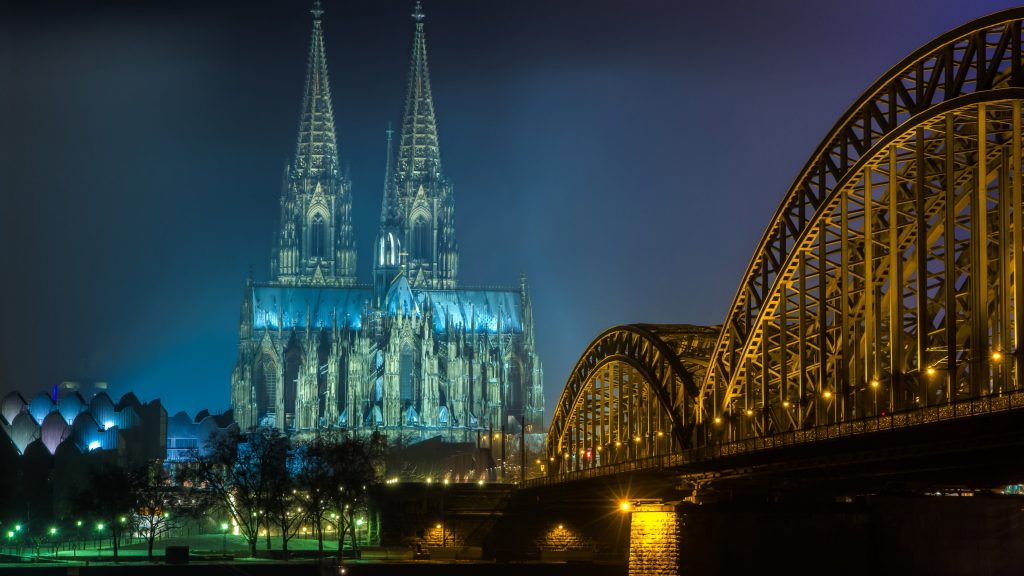 Rule 1: See if there is something you shared years before as young people you could revisit as a celebratory date.
Cologne Cathedral, Germany
Cologne Cathedral (Kölner Dom) did not disappoint. Overlooking the Rhine, its construction began in 1248 but was not completed until 1880, due to a break of 400 years when building work stopped. One of the facts we were told on the English guided tour.
Advance research had pre-warned us that tourists are not allowed past a certain point during services of worship. As it turned out, the guided tour allowed us special access to the resting place of the remains of the three Magi, the three wise men of the Christmas nativity story. I felt a bit sorry for the other tourists as the gate to the inner choir, behind the medieval high altar, was unlocked and our little group filed in to gaze in awe at the golden shrine while they were kept out.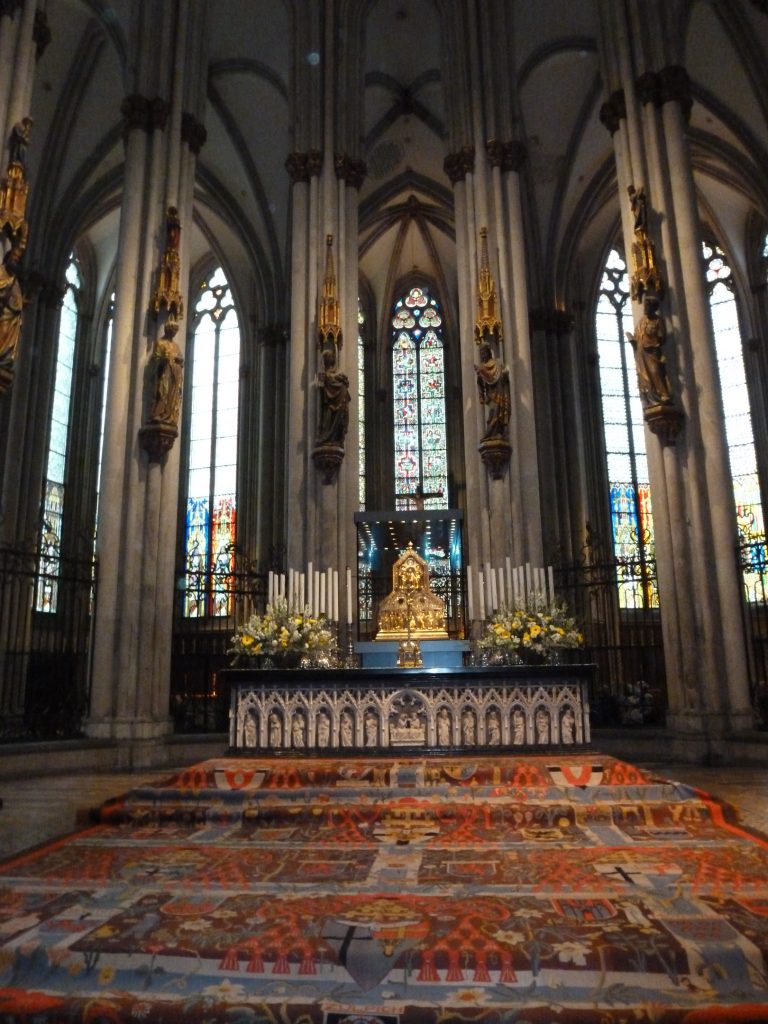 We were told that because of these relics, Cologne Cathedral was considered an important place of pilgrimage.
Twenty thousand visitors a day!
It was difficult not to be impressed and to enjoy thinking the bones of Melchior, Balthazar, and Jasper are resting in such glorious splendour. Gold filigree panels set with precious stones, gold and silver embossed figures, cameos and enamels. A masterpiece of adoration.
It made me wonder which one of the magi brought which of the three gifts of gold, frankincense and Myrrh. I made a mental note to look it up. *
Rule 2: Before you go, research the best way to see the religious site and book tickets if need be.
After such an intense educating couple of hours it became essential to sit and stare at the outside of the gothic masterpiece, drinking a glass of German wine (or beer) while doing so.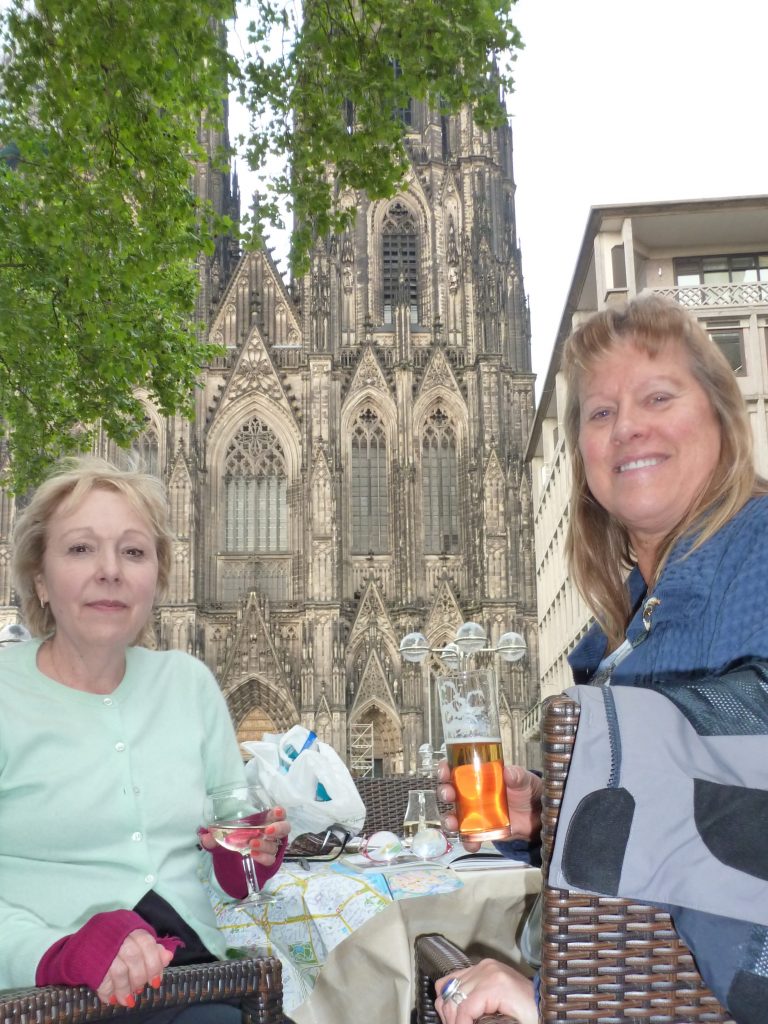 Rule 3: Don't rush away from such a sacred history. Enjoy the outside as much as the inner magical bliss.
 *Jasper brings myrrh, Melchior frankincense, and Balthazar gold.
Mont St-Michel, France 
My next Religious icon date was again with two friends who'd been on the long journey with me, my school friend Pam and our university friend Swati. Despite knowing them for 50 and 40 years respectively the three of us had never been away together. That was about to change as we set off by car, travelling through the tunnel and along the French coast on our date to Mont St-Michel in Northern France.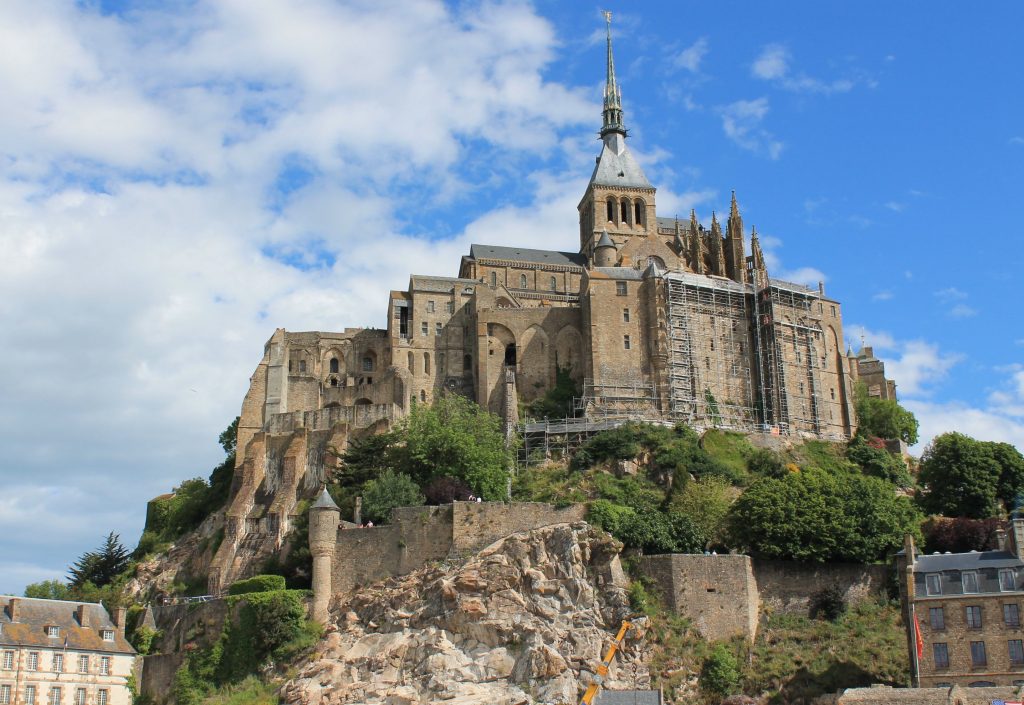 The first sight of the Benedictine Abbey sitting high on a rock in the distance turned us into seven-year-olds with cries of 'look, look' and 'are we nearly there?'
Up close it's even more impressive. How did they build the Abbey on the top of that high rock?
We had decided to stay in a small auberge on the island itself which meant lugging cases from the car park, via shuttle bus across the causeway, up the sloping street to our rooms. It was worth it to be able to walk around at night when most of the tourists had gone.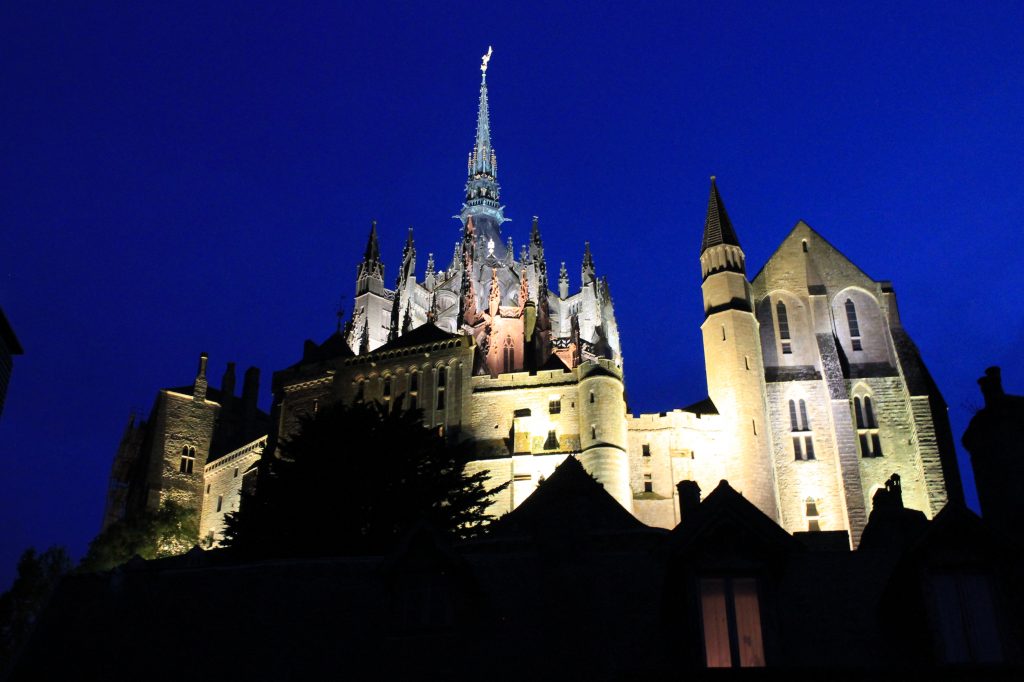 The next morning we climbed the 350 steps to the top of the rock and the 11th century Abbey entrance, stopping frequently to take in the views across the bay, and for me to get my breath back. A determination had taken hold – I was not going to miss out just because I wasn't very fit. Even if it meant being lectured by my two friends on the need to exercise more.
Rule 4: If access is difficult, take it slowly so you don't miss out.
We decided to take the audio tour of the Abbey, timing it so we could attend the service by the 'Brothers and Sisters of the Jerusalem Community'.
The three of us, one a church-going Christian C of E, one agnostic and one who says 'science is her religion' bagged seats in the front row. Worth the twenty-minute wait to hear the harmonising voices chant the opening of the service. Such was the beauty of the angelic voices it was easy to forget it was a time of worship and not a concert.
Our naughty schoolgirl moment came when, as we listened to the Holy Communion service in French, I realised we had got to the 'Peace' and 'let us offer one another the sign of peace'. As I placed a hand on each of my friends with the words forming on my lips, Swati the doctor, jumped into action ready to resuscitate me, thinking I was having a heart attack (after all those steps) and Pam spun round to catch me, sure I was passing out.
'I was just saying peace be with you,' I said before the three of us collapsed into giggles, earning disapproving looks from others in the congregation.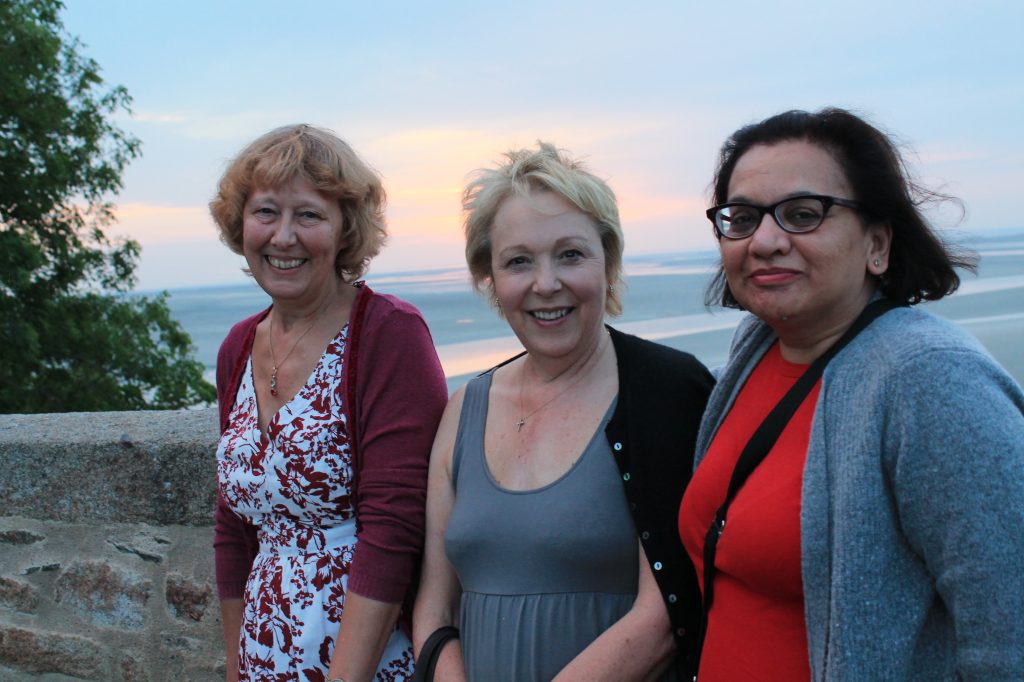 We celebrated later with a Kir Royale in true French tradition.
As we drove away, after two days together, we had covered such topics as feeling old, looking old, knee supports, insomnia and whether it would have been better to have caught the ferry instead of the long drive. Such a change from decades earlier when the conversations had been of parties, boys and forging ahead in our careers.
But we did take one last look at the Mont and the Abbey which, from a distance, seemed to be floating on the sea and we agreed we'd had a great time together. And that we should do it again.
On the way home, I decided I should start 'collecting cathedrals'.
The Moral of the Date: Even if you are not religious these UNESCO sacred sites are like special friends. See them before it's too late.
With many thanks to Anne, Pam and Swati for coming on these dates with me.
9/60 dates completed
Next: A date near and about at home
Follow me to see what happened.