My mission: To go on 60 dates with friends & family to celebrate my 60th birthday.
In the dim and distant past one of my favourite dreams was to win an Oscar. Not as an actor but as a film director. I was lucky enough to make a film once. A short film called Macbeth's Disciple.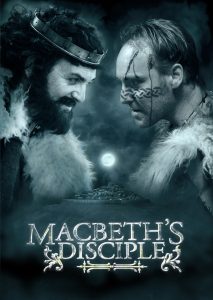 It was incredibly hard work and, as an inexperienced female director, there was sneering to endure; that aside, directing a film was the most exciting moment of my professional life. And I've had a few. My film was shown at the Edinburgh International Film Festival, not an Oscar contender though. At 60, I know a career as a film director has passed me by but that doesn't stop me being interested in the latest releases and enjoying the pizazz of the Oscar ceremony.
It's only natural then that the Oscars should feature in my milestone celebrations. I planned to see all nine nominees in the 'Best Film' category, with as many friends as possible, then cast my vote, dress up and drink champagne all night. As the ceremony doesn't start until 2am, UK time, it was also an endurance test. Could I possibly stay awake?
Last year, I decided my favourite film from those nominated was Hidden Figures. My criteria for choosing best film are; would I watch it again? – yes. Was it well acted? – yes. Was it a good story? – yes. Did I learn from it? – yes. Was there a moral/social issue highlighted? – yes. Racism, as a side-story, was all the more impactful. Was there a prominent role for a woman? – Yes – three women actually. Who knew a bunch of African-American women had been responsible for the maths calculations behind the John Glenn space mission? Responsible for his safety in fact. It was a story I'd never heard before and the US space exploration was very much a part of my childhood. I loved it.
Last year's Oscar for Best Picture did not go to my choice but to Moonlight – oops or was that La La Land?  Moonlight won. A hilarious and unforgettable moment, just when we were thinking of switching off the TV, the drama happens.
Will something equally dramatic happen at the 90th Academy Awards 2018?  First, though, I have to go on nine dates to see the nominated films.
Spoiler alert: Please don't read if you still plan to go and see any of the films listed below.
The nominees for Best Picture are:
CALL ME BY YOUR NAME
DARKEST HOUR
DUNKIRK
GET OUT
LADY BIRD
PHANTOM THREAD
THE POST
THE SHAPE OF WATER
THREE BILLBOARDS OUTSIDE EBBING, MISSOURI
Squeezing in nine trips to the cinema between the nominations day and the ceremony is quite demanding because some of the films will not have been released in the UK until a few days before. This year, the Academy of Motion Picture Arts and Sciences didn't want to clash with the Winter Olympics so there's an extra week in which to see the films.  Yippee.
RULE 1: Keep early February clear so you have time to see all the nominated Best Pictures.
The Oscar ceremony in Los Angeles is the culmination of many other festivals which take place throughout the year. For feature length films, entry requirements include a 7-day Los Angeles theatre release in the qualifying year. There are over 6000 voting members of the Academy, all of whom would have "achieved a distinction in motion picture, arts and sciences" and have multiple credits to their name. They can only join one group, for example, even if the person is both actor and director he/she can only join one of those groups – not both.
As a live action short filmmaker, I discovered I had to get my film shown and win a prize at two qualifying competitive festivals to be considered for Oscar entry. Whilst my film didn't win any prizes, I did discover the fun of the film festival and the opportunity to see a film in advance of its UK general release.
In October, I went with Lynne to the International London Film Festival (LFF) gala screening of THREE BILLBOARDS OUTSIDE EBBING, MISSOURI.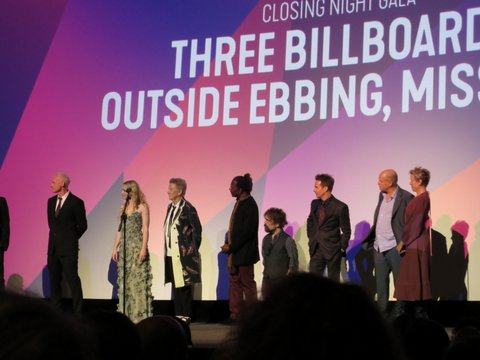 Although not in evening wear we dressed up as best we could for an unseasonably cold October evening. Walking the red carpet is one helluva exciting thing to do and worth the effort of the re-dial-sore-fingers to get tickets.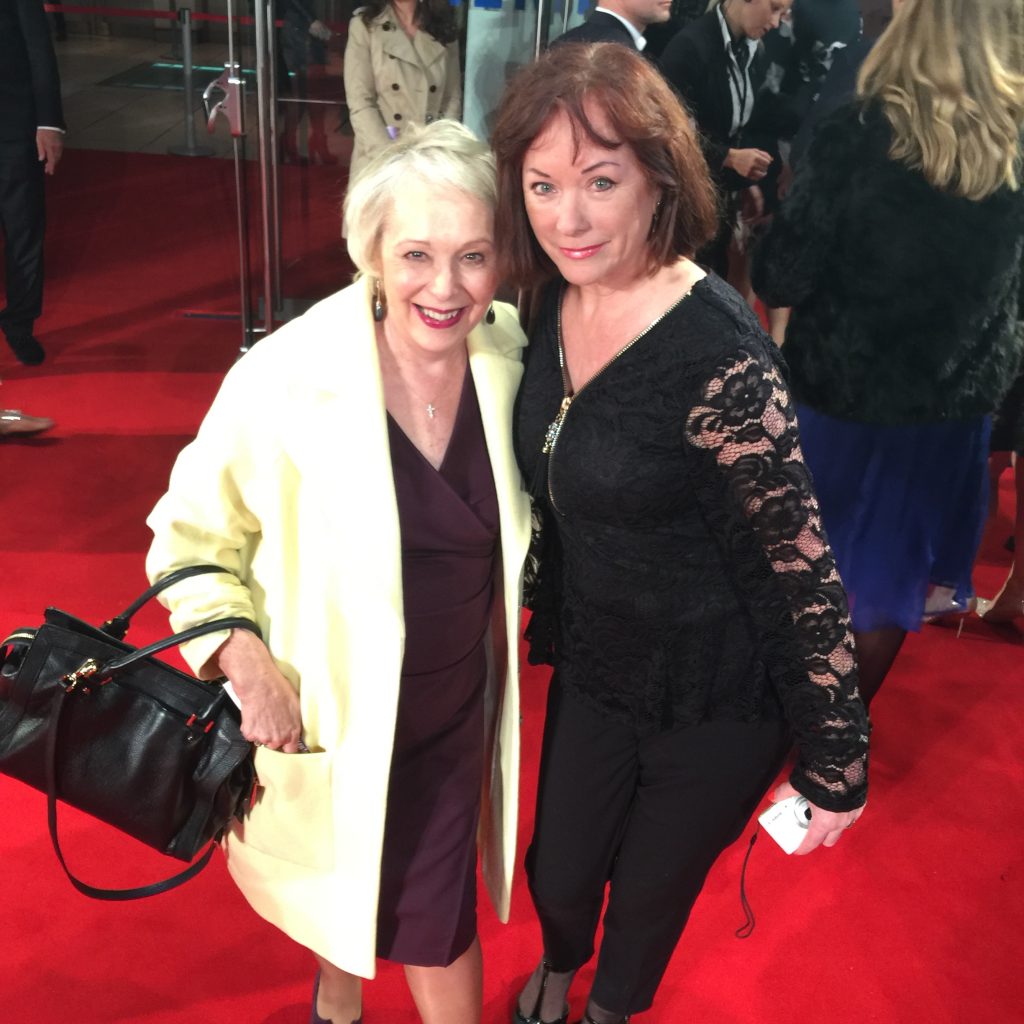 I wasn't expecting to like the film; murder, antihero police, racist overtones, violence but as the credits rolled I turned to my friend and said 'Wow' at the same time she did. It says a lot for the film-maker, Martin McDonagh, and the cast performances, particularly Frances McDormand, to have made me say, 'I really enjoyed that.'
Rule 2: Learn how to pose on the red carpet (I still haven't got it right)
Another genre of film I wouldn't normally go for is 'Horror' and that's exactly what GET OUT turned out to be. A young black man meets his white girlfriend's parents and all is not what it seems. Luckily, I watched it on TV download and only my husband noticed when I hid my face behind a cushion during a scary scene. When I looked up again, he'd run from the room. It was a surprise then, to feel I'd watched an original story with outstanding acting by the male lead, Daniel Kaluuya. A pacey, suspense filled exposé of liberal racism.
Another form of horror is war. I avoid films that feature war. My father, when he was alive, refused to discuss his six years in the army during WW2, 'why should I inflict those horrors on you.' However, when two are nominated in the Best Picture category I don't have much of a choice and so I went to see Dunkirk and Darkest Hour with husband in tow.
DUNKIRK was first, and although we know the story – the rescue of 300,000 servicemen from the French coast by an armada of small boats – it was good to see it from different points of view and not just from the soldiers on the beach. I found it particularly poignant to follow the journey of one fishing boat owner and an aircraft pilot. I felt there were too many 'water' scenes where we witnessed the desperation of men wanting to escape a watery grave. I got the message with the first and it made my heart ache to see the suffering of those young men – even if it was film.
DARKEST HOUR certainly stirred the patriotic juices and I wanted to clap as the credits rolled, such was the power of the last scene. I wasn't convinced by the tube train conversation. It felt fake, with the longest stop at an Underground station ever, but I was happy to accept it as an illustration of what might have transpired. I was particularly impressed with the inclusion of a meaty role for Churchill's wife, Clementine – as they say, 'behind every great man….' I was unaware Churchill was disliked by his peers and the role of the King was new to me. Gary Oldman's performance brought this new information to glorious light.
Rule 3: Be prepared to see films out of your comfort zone.
The Governors Ball is the official after-ceremony-party where the big names in entertainment get to let their hair down. Over 12,000 glasses of champagne will be drunk, 10,000 glasses of wine, 6000 Kobe beef burgers and, not forgetting, 7000 edible chocolate Oscar statuettes, covered in gold dust, the stars get to take home.
I'd really like to go to that ball.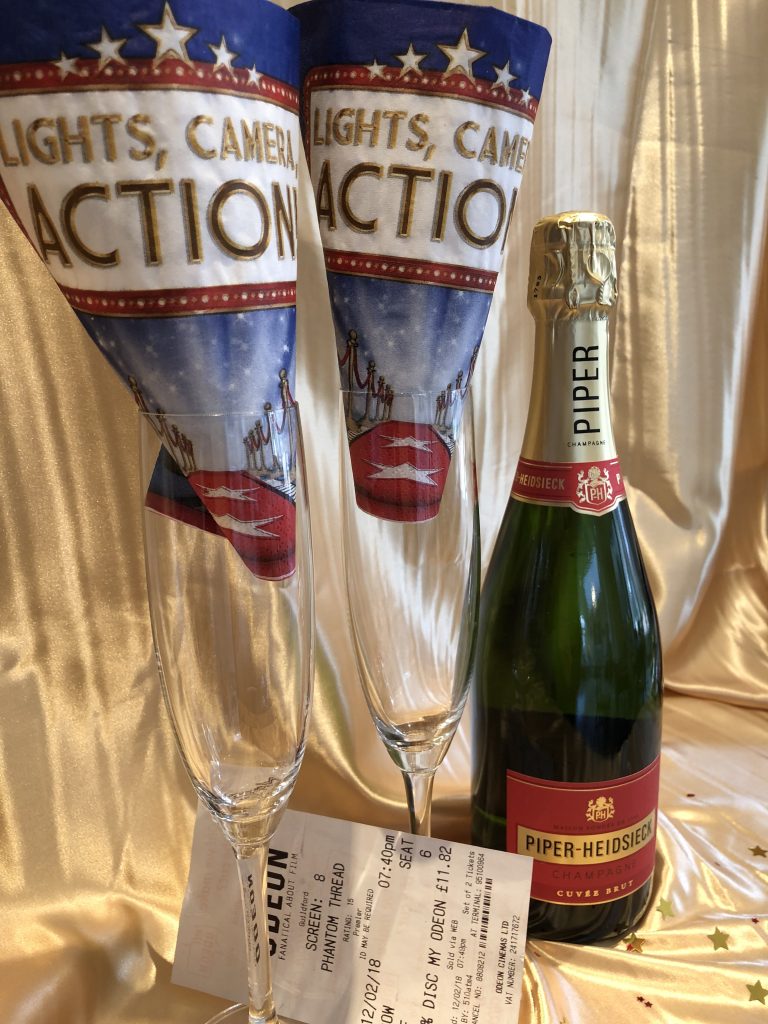 One woman who does get to go, and often, is Meryl Streep. She holds the record for number of nominations as actor and has won the coveted statue three times.
And, in 2018, she's been nominated again, this time for her portrayal of another real woman (her last Oscar win was for Margaret Thatcher in The Iron Lady). Katharine Graham was the first female publisher/owner of a major American newspaper, the Washington Post. A woman I'd not heard of before; who exhibited real courage at a time of male dominance, against an all-powerful antagonist, Nixon's US Government.
It was a no-brainer, I just had to see THE POST.
The film didn't disappoint. A thrilling suspense. A drama with high stakes. An edge of the seat story with a link to that other Nixon exposé. The only downside; Streep's performance, for me, had too many echoes of her Miranda Priestly in The Devil Wears Prada. Not that that's a bad thing. Both films are rainy day, easy re-watchers.
The first Oscar ceremony was on the 16th May 1929. King George V was on the throne in the UK and Herbert Hoover was president of the United States. The Wall Street crash happened in October and the great depression started.
And homosexuality was illegal. Decriminalisation wasn't until 1967 in the UK, and It's almost hard to imagine that only 50 years ago it was illegal for a man to love another man. A situation that forced secrecy and hiding your real self. The first gay-related film to win and Oscar was Midnight Cowboy (1969). Probably one of the break-through male love stories was Brokeback Mountain which won for Best director but not best picture. It wasn't until 2017 that a LGBT film won the best picture category – Moonlight.
So, in some ways its early days for LGBT films and still many are acted by heterosexual actors.
I really enjoyed Moonlight and I was expecting to see a beautiful coming of age gay-love-story in CALL ME BY YOUR NAME. However, whilst the setting was stunning, the lifestyle amorous and the acting impressive, I came away from the film feeling slightly alarmed that I had watched something sleazy. Instead of a sensual love story, I saw a young boy (aged 17 in the film, 22 in real life but looked to me about 14) being seduced by a much older looking man (24 in the film, 31 in real life and looked 35). This age gap was emphasised by the very slim frame of Timothée Chalamet compared to the buff Armie Hammer. I also disliked the excessively long last-shot, showing Elio's pain after a distressing phone call, while life went on around him. The director wanted us to see Elio's anguish but I couldn't help thinking how odd it was of the parents not to realise their son was upset. We were told, during the father's soliloquy, they knew of the gay relationship. I did not like this film but I'm glad I saw it.
And I couldn't help wondering if a film showing a male actor who looked 35 in a love affair with a 14-year-old looking girl would get an Oscar nomination for best picture.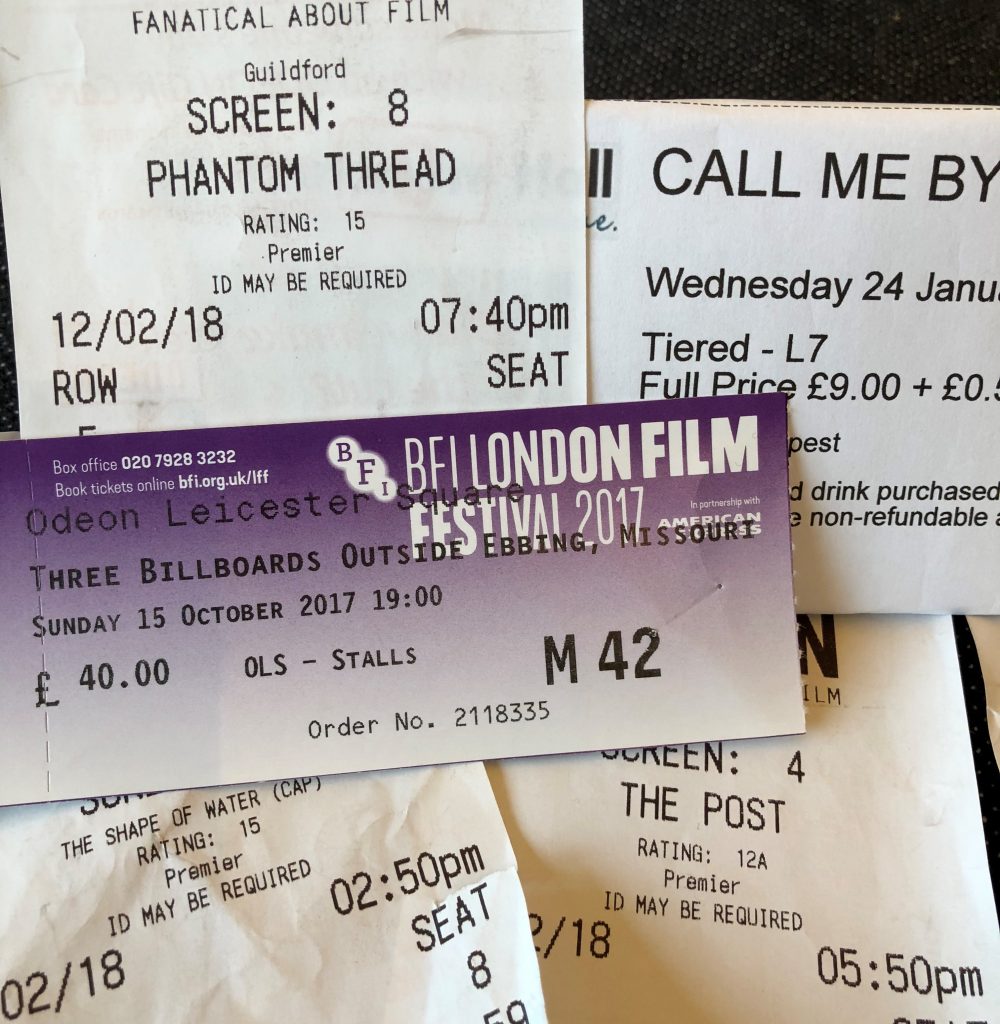 Oh, wait a minute, there's PHANTOM THREAD. A romance story between a middle-aged man (a famous couturier) and a woman of about 25 (possibly a refugee). This film had an unexpected twist which shook me. I couldn't quite believe what I was watching. 'Did she just…' I said to my friend. 'Not sure,' she replied. It would be too much of a spoiler to say what happened but it was unexpected. In the end this dark tale, with it's strange comedic twists, was less of a love story and more of a woman taking control of her life and deciding she was not going to let the man ruin it for her.
Clever but not sure I'd watch it again.
Another woman who takes control of her life is Eliza in THE SHAPE OF WATER. She falls in love with a sea-creature found in the Amazon who is worshiped as a god. Set in the height of the cold-war this film has a lot going for it as a period piece and a reminder of the espionage/space race between the US and Russia. Although I enjoyed watching the sublime Sally Hawkins I didn't love the film as much as I expected to – the film does not live up to the hype. For starters the opening scene had a feel of Titanic and much of the story echoed past films. Was that the intention? A sort-of-ode to Hollywood – with a huge dose of ET for adults. There's a dance scene reminiscent of La La Land and the ending for me was Splash. But my real problem with this film was its believability. We see evidence of a violent sea creature with the blood dripping hand the bitten off hands of the bully Head of Security. A short while later we see our mute heroine, who has had only one brief glimpse of the creature, sit on the edge of an open pool and peel an egg for the creature. Wasn't she scared he would bite off her fingers too? And why was 'the asset' not being guarded anyway? How come the scientists weren't watching him, assessing him, caring for him? Tooooo contrived for me. And, how come Elisa, a cleaner, knew the security code for the room anyway? Surely not! Further into the film, when the creature has been rescued from the evil security head he helps himself to a cat, having been left alone in a flat. A few scenes later he is sitting nicely at a table eating with Elisa. Sorry, but I stopped believing in this story very early on and at one point looked at my watch to see if it was nearly over. Some friends have loved this film. Not one that would get my vote.
Rule 4: Don't listen to the hype or reviews – make up your own mind
On the other hand, a film I did enjoy watching was LADY BIRD. This mother-daughter relationship delivers two outstanding performances. Saoirse Ronan (Lady Bird) and Laurie Metcalf (the mother and a nurse) interact with such ferocious interchanges that we begin to see when an argument is brewing. In this beautifully directed story, the 17-year-old Lady Bird, Christine to her parents, flips between loving and hating her mother, her family's low financial situation and her friends. She doesn't see her mother's 'behind the scenes' protection – she's asleep when a dress is altered to fit. This coming-of-age story had parallels in my own life so perhaps I was happy to let the story flow without a dramatic climax, although I did wonder if some serious harm was going to happen to our young heroine towards the end. There was humour that had me laughing out loud and I came away feeling Greta Gerwig deserved her best film and best director dominations. Token Woman she is not.
I've had so much fun seeing all these best picture nominated films I'm going to make it an annual event.
And, having seen all nine Oscar nominated films my vote for Best Picture would go to THREE BILLBOARDS OUTSIDE EBBING, MISSOURI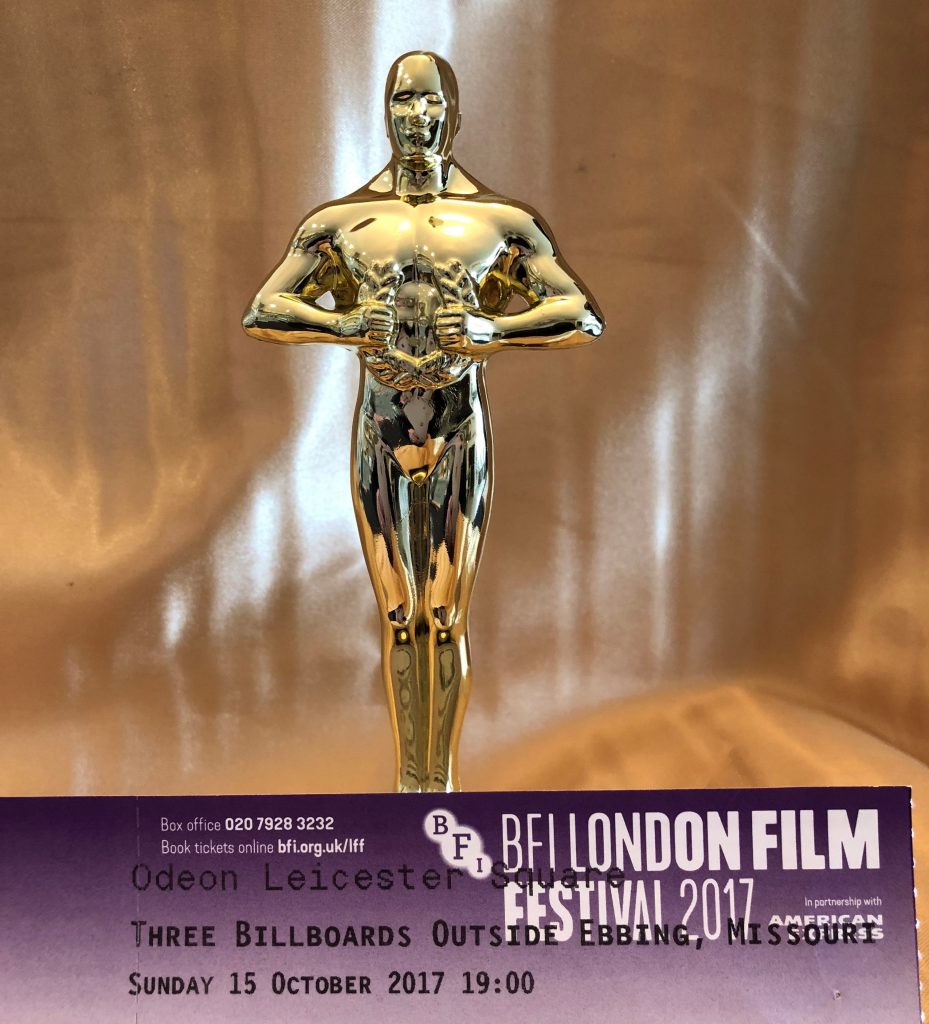 The Moral of the Date: Even if you don't go to the cinema often use the Oscars as an excuse. It makes you feel current.
Many thanks to Lynne, Lyndsey, Maya-Jane, Pam & Brian for coming on these dates with me.
Dates completed: 18/60
Next: Oscar night
Follow me to see what happened.
Learn about Macbeth at www.spearean.co.uk