My mission: To go on 60 dates with friends & family to celebrate my 60th birthday.
Having seen all nine nominated best pictures I was ready with my verdict. MY choice was THREE BILLBOARDS OUTSIDE EBBING, MISSOURI.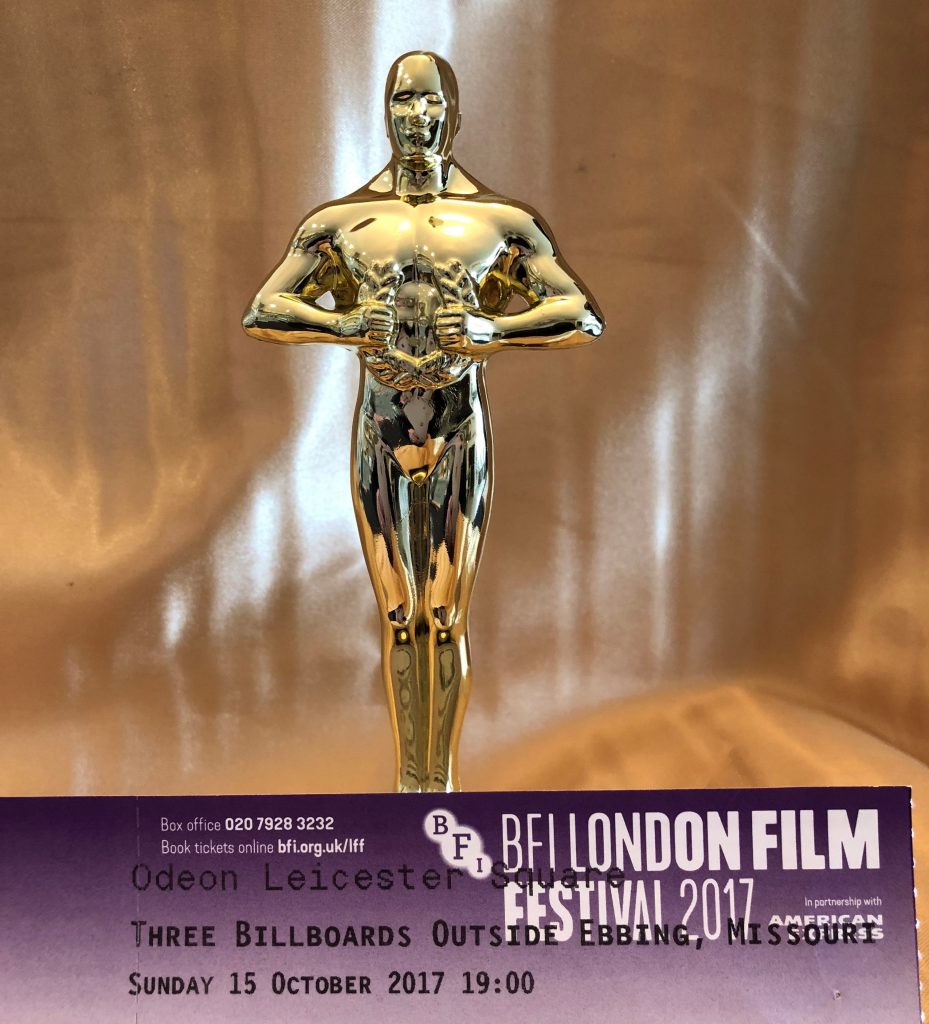 All that was left to do was to glam up, pour the champagne, make sure my date for the evening was ready for the marathon night ahead and sit back and watch.
I asked my friends who had watched the nominated films with me, if they wanted to complete the process – stay up all night to see the live Oscar ceremony. One by one they dipped out. I didn't blame them; the whole of the country was in turmoil from the snowfall.
It had been a tough few days for me, too, as my expensive-eco-green-heating, otherwise known as Ground Source Heat Pumps decided not to work. 'It's too cold for them,' said the engineer. A suitable retort to this bizarre excuse stretched the creative juices. In the end we spent five days in a house at ten degrees and only coped because of the wood-burning stove in the kitchen. Camping was fun for one day and night but when cramp hit my shins, I decided I had to risk my freezer-like bedroom. Still, the kitchen was warm and even though there was no TV – it was a good opportunity to catch up on some reading. Then to my horror I discovered we were out of red wine. What was I thinking when I stocked up for the snow!
I was worried about Oscar night.
The sitting room thermostat was depressing reading. Nine degrees. It was warmer in Svalbard (1,000km from the North Pole) when I visited. Was I going to miss the Oscars? Was it possible to watch the ceremony live on my laptop in the kitchen? And how on earth was I going to wear my slinky, Swarovski-crystal-covered dress when getting changed in the bedroom was a hazard in its own right?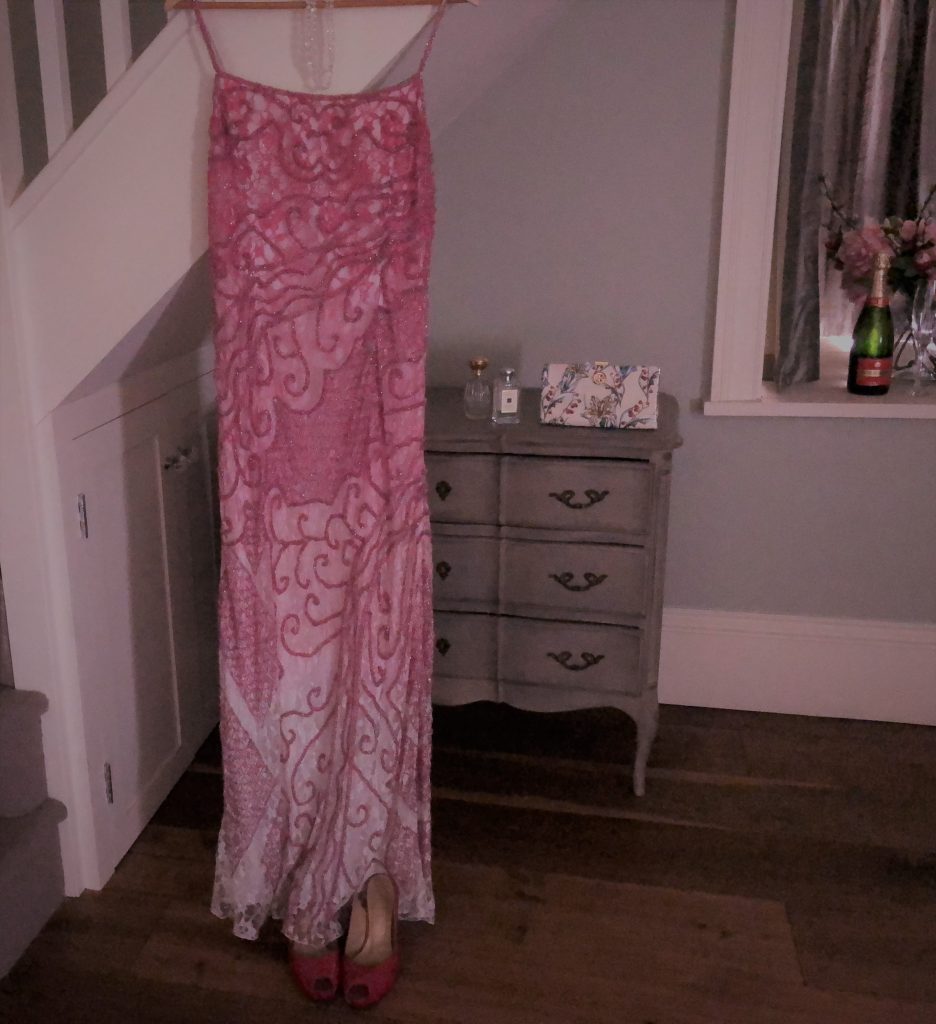 The cold bedroom took me back to my childhood. I can remember it well. With no central heating in those days, going to bed involved a tight procedure. A rapid change from day to night clothes in front of the living-room stove, teeth brushing at the Belfast sink – my dad always washed up straight after dinner – and then a mad dash up the stairs, breathing out clouds of air, to dive into a bed heated only by a hot water bottle.
I began to make plans for an arctic Oscar ceremony. I dug out mum's old fur coat (vintage) – being real fur it was the warmest thing I owned but it weighed a ton. A snuggle blanket, an electric heater, cashmere socks and a real log fire. That ought to do it. With copious amounts of alcohol too.
My evening was saved by an upturn in the outside temperature. The heat pumps started working, the house began to warm, I lit an open fire full of big logs and glammed up. By now, the only person willing to join me on this jaunt was my husband. Well, it's not too shabby to go with your husband to the Oscars, even if he did insist on wearing pyjamas.
Was it worth it?
It was the least entertaining ceremony I've watched in recent years. It was also one of the most predictable. No surprises. On one hand that was good – it should be easy to see who deserves the Oscar – but on the other hand with so many 'experts' predicting the eventual outcome it felt more like an exercise in rubber-stamping.
Highlights for me were:
Eva Marie-Saint the 93-year-old Oscar winning actress presenting the award for Costume Design. She won her academy award for her portrayal of Edie Doyle in the film On the Waterfront starring Marlon Brando. It was her debut feature acting. She was greeted with a standing ovation by her industry peers, heart-warming to watch, and she treated us to a charming address. She told us she was older than the Academy. I laughed alongside the theatre audience. She gave us movie history, telling us she wore a navy-blue coat throughout the film as her character falls for Marlon Brando. In North by Northwest, to look glamorous while falling in love with Cary Grant, the director Fred Hitchcock took her to Bergdorf Goodman's to choose her wardrobe – including a favourite black dress with red roses. Finally, an anecdotal story of working with the legendary costume designer Edith Head (8 Oscar wins, 35 nominations) before presenting the award. Best Costume design was awarded to Mark Bridges for Phantom Thread. Well deserved. The dresses were beautiful, original designs that gave credence to the couturier world of the film.
Lupita Nyong'o in the best dress of the evening. She was literally dripping in gold and I couldn't take my eyes off her. She looked stunning in the Versace gown with its split to the thigh and black accents in a draped band across the bodice.

Lupita Nyong'o and Kumail Nanjiani

The moment when JK said there's 'another group that deserves our thanks even more because none of us would be here'. Who? The people who go to see the movies they make. 'Tonight, we thank the movie going public.'
It made me wonder how much influence we have on the vote. How well did those Oscar nominated best pictures do at the box office?  (Source: Box Office Mojo)
As of 11th March 2017, (in rounded up figures).
Dunkirk – $526m on a budget of $100m
Three Billboards… –  $143m on a budget of $12m
Phantom Thread –     $41m on a budget of $35m
Lady Bird –                  $65m on a budget of $10m
Darkest Hour –           $143m on a budget of $30m
Get Out –                      $255m on a budget of $4.5m
Shape of Water –        $150m on a budget of $19.5m
Call me by your Name – $35m on a budget of $3.5m
The Post –                    $155m on a budget of $50m
Of course, these films have been released at different times, with varied premieres across the world but by using a simple calculation of box office receipts as a percentage of budget then Get Out would be way ahead.
If none of those industry professionals would be there if we didn't go to watch the films, then surely the time has come for the public to have a say in which films win Oscars? I'm sure PWC could work out a mathematical formula which would add a bit of objective voting into the system based on return of budget. This would take away the full-on wooing of the Oscar voters. Is Hollywood brave enough? Is the Academy brave enough? And while we're on the subject of changes, how about letting us watch these movies at home, streamed onto our big TV screens one week after release? I've a feeling that far from cannibalising sales this would increase sales.
When the ceremony finished around 5am – I'd stopped looking at the clock – I went to bed and slept for five hours. I'd planned nothing for the rest of Monday but if I'm honest I didn't recover until the end of the week.
As a date night, I was somewhat stood up by my husband as he slept through the ceremony only to wake for the last three awards!  And the Best Picture Oscar went to 'The Shape of Water'.
Moral of the Date: A Sixty-date watching the live film-event-of-the-year allows you to be a film know-it-all with endless social media opportunities. But beware the racing heart and the dark circles as you try to function for the rest of the week.  
With thanks to Brian for sort of being with me on this date
Dates completed: 19/60
Next: Out and about near home
Follow me to see what happened.
©spearean 2018 The Jasmin Vine