My mission is to go on 60 dates with friends & family to celebrate my 60th birthday.
I've always subscribed to the view that lifting a glass of wine to my lips time and time again is exercise enough. Hitting 60 not only reinforces this belief, it also gives me an idea for a date.
I can't remember when I decided Puligny Montrachet was my favourite of all favourite wines but somewhere along the timeline I did. So what better way to celebrate my 60th than to dedicate a date to this delicious, fruity, marizpanny, wine? To go to where it's made and taste it hot of the vine, so to speak.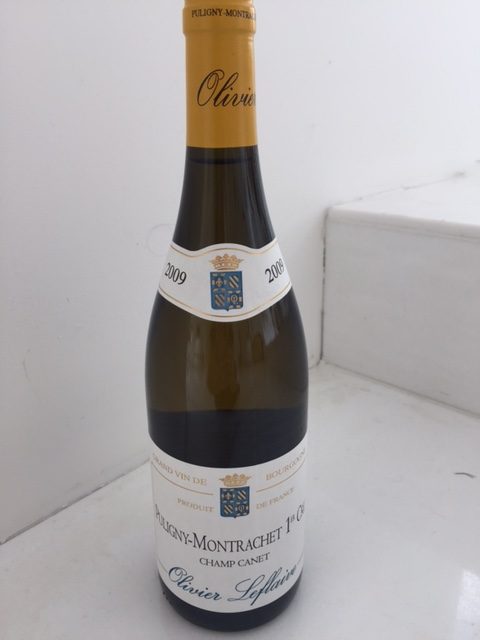 I ask three girl-friends to come with me and find them, despite the costs, to be surprisingly willing. It's not until we get there that one confesses she doesn't like white wine. Oops!
Rule 1: Check your friends like your favourite tipple.
The four of us are giggly, like runaway schoolgirls as we catch a flight to Lyon and train/taxi to our hotel. The 17th Century building is a converted Maison de Maître in the village of Puligny Montrachet, owned by respected winemaker Olivier LEFLAIVE. The first thing we do is order a bottle. Yes – before we've unpacked. We get some odd looks until we realise we shouldn't pronounce the 't' in Montrachet.
Rule 2: Check how to pronounce your favourite wine.
We choose the cheapest bottle at 42 euros. With it comes bread, cheese and cold meats. It doesn't take us long to order a second by which time we are a merry bunch of ladies.
The next morning I've booked us on a tour of the vineyard and a wine tasting lunch. We are escorted by Charles (pronounced Sharl), a young Frenchman with a-come-to-bed accent. He tells us how they grow and harvest their vines. How their micro-climate makes a difference between producing a basic Bourgogne or a Grand Cru. How they prune differently, 8-10 branches are left on the Bourgogne but only 6 on the Grand Cru, helping to improve the vegetation when the vine fruits again. He tells us their wine is best drunk after 5 years as the acidity is reduced and the flavour developed.
I'm feeling thirsty.
In the winery Olivier Leflaive himself shows us how they make their special wines. The fermentation tanks, the piles of oak barrels, the expert taster know-how.
I'm listening, learning but yearning for the tasting lunch. I can't help thinking my friends might feel the same.
Rule 3: Book a wine tasting lunch. It's cheaper.
We opt for the 9 wine tasting menu. Yes – NINE different glasses of wine. My arm muscles are going to get a serious workout. I think about my bedroom on the first floor and wonder if I will make it up the stairs later.
The list comprises of a basic Bourgogne to prepare the palate, three young white wines, three grand cru white wines and two reds which pleases my friend who doesn't drink white. I notice, however, she joins in the tasting with as much gusto as the rest of us. I'm thinking we might have a convert in our midst.
We are instructed to taste the wine and tip away the rest. We all do that with the basic Bourgogne before someone says, 'isn't that a bit of a waste?' We all agree. We are eating lunch with it after all.
Rule 4: Never tip any wine away during a tasting, think of the exercise.
At the end of four courses, we order double portions of dessert, a pear in red wine with a crumble topping. Nobody really wants coffee but we sit in the courtyard and tell favourite jokes. Laughing has a hysterical, high-pitched quality to it. For a while we become serious and talk of regrets. There are tears before we all decide to rest. I fall asleep in minutes.
Rule 5: Make sure you book accommodation where it's easy to go and lie down after the wine tasting.
The next day we are greeted by a cloudless blue sky and taxi it to Beaune, the centre of the Burgundy wine region. We tour the Hôtel-Dieu Museum, a former hospital and stand in homage before the Altarpiece. The Jugement Dernier by Rogier van der Weyden is 9 large oak panels painted in oil, with stunning imagery brought to life. The feeling of awe lasts as we board the Disney-esque Visiotrain for a tour of the city. Then it's find a restaurant, for lunch, and more wine.
Rule 6: Do something cultural if only to prove you're not total philistines.
By the time we get to day 3 we have worked our way up the wine menu, ordering a bottle of Puligny Montrachet Premier Cru costing 140 euros. We feel obliged to taste the greeny-gold wine with its luxurious fragrant flavour to complete our education.
The hotel offers us four bikes. I haven't ridden in years but manage to get on it (just) but my feet don't reach the ground so I yell for the others to follow. I'm too scared to stop so my legs peddle furiously all the way to Meursault, where I find a high curb, allowing me to park. After the 4km charge, it's necessary to find a café to rest.
'As we're here we should try a Meursault wine,' I say.
Everyone agrees and we savour the nutty-butteriness of the wine. Much less fragrant than the Puligny-Montrachet I say, but very enjoyable.
It's a jolly cycle ride back and we all arrive safely at the hotel front door. I feel thinner. Colour roses my cheeks and my eyes are bright with laughter.
Moral of the date: Drinking wine is good exercise.
On our 9th glass at the end of the wine tasting lunch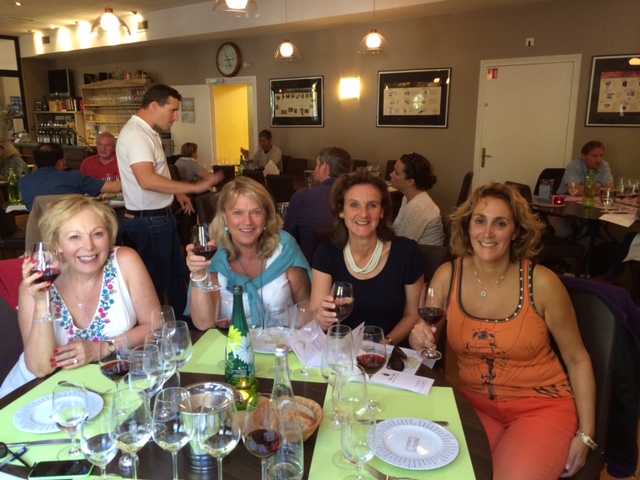 With many thanks to Gillian, Paddy and Raquel who generously gave their time and money to join me on this wonderful date. And guess what? We're going to do it again – to a red wine region of France.
Cote du Rhone here we come.
Dates completed = 3/60
Next – a food date.
Follow me to find out what happened.
Please always drink responsibly.
https://en.wikipedia.org/wiki/Beaune